The Pointe du Raz and Cap Sizun have several different types of restored mills 
Les moulins de Trouguer
A short distance inland from the Pointe du Van stand two windmills. The smaller of the two is a post mill, erected on an upright support, so that the body of the mill can rotate to face the wind. This type of windmill gradually disappeared during the 1960s. Similar structures can be found in Scotland and on the islands of Ushant, Madeira and the Azores. 
The larger tower mill was built in 1830. There were once numerous mills in the Cap Sizun region, but all that is left today are a few ruined towers. On the coastal footpath by the Pointe du Van, not far from the mills there is a traditional bread oven.
On the first Sunday in August, the mills are a hive of activity for the annual threshing festival when the air is filled with the sound of threshers, horses and carts and the smell of fresh cut straw. The windmills are open to the public from April to September, so on a windy day come and help put up the sails, operate the mill and make your own flour!
Le moulin de Kériolet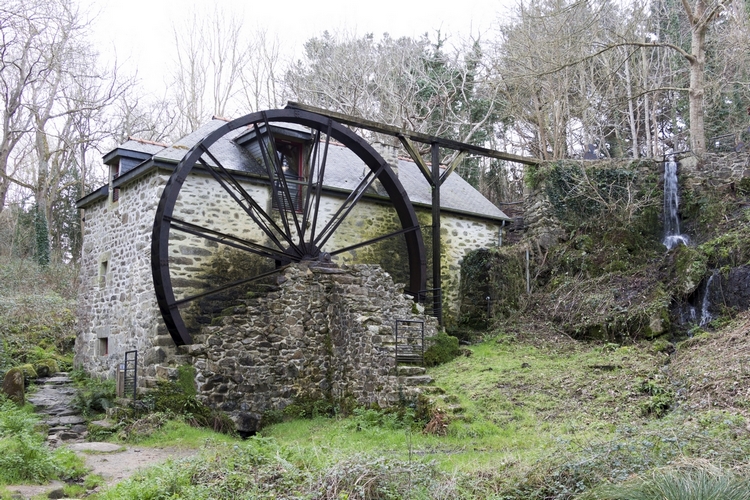 Just near the Pointe du Millier at the heart of a sheltered valley stands the impressive Kériolet water mill where a stream winds its way between huge, mossy stones to drive the huge wheel, which in turn powers cast iron cogs then the millstones to produce flour with unrivalled flavour.
The Moulin de Kériolet is open all year round. It is closed on Mondays from November to March.
Le moulin de Tréouzien
Take a trip back in time to 1812 to the water mill tucked away in the Tréouzien valley near the harbour of Pors Poulhan in Plouhinec. The two water wheels have been restored and one is used to produce flour and the other electricity