The cave at Menez Dregan is the archaeological treasure trove of Cap Sizun. It is located in Plouhinec and is close to several other ancient sites : a Neolithic burial ground at the Pointe du Souc'h and a gallery grave at Pors Poulhan.
The cave
Menez Dregan cave is a palaeolithic site of major importance. Evidence found in the oldest layers of the rock has shown that it was inhabited around 465,000 years B.C. Excavations have uncovered flint tools, bones (especially from large mammals like perissodactyls and an elephant's tooth) and hearths, making the site is one of the oldest in the world where fire is known to have been used.
The Discovery Centre
The Discovery Centre at Menez Dregan uses modern, interactive displays to reveal the special features of the archaeological sites, the people who lived there, the role played by archaeologists and the methods they use. 
Visitors can also take a trip back in time to 500,000 B.C. along an outdoor Discovery Trail with 9 stages which explains not only how climate and life have evolved but also the work done by archaeologists. These three emblematic sites of the Dolmens at the Pointe du Souc'h, the Gallery Grave at Pors Poulhan and Menez Dregan give an amazing insight into prehistoric life in Brittany. Don't miss the workshops, visits, demonstrations and games which take place throughout the region every summer during the 'Rencontres Préhistoriques de Bretagne'.
The dolmens at the Pointe du Souc'h
A few metres beyond Menez Dragan cave lies the Neolithic burial site of the Pointe du Souc'h. This listed archaeological site comprises several dolmens which were excavated between 2001        and 2006 by the Finistère Archaeological Department.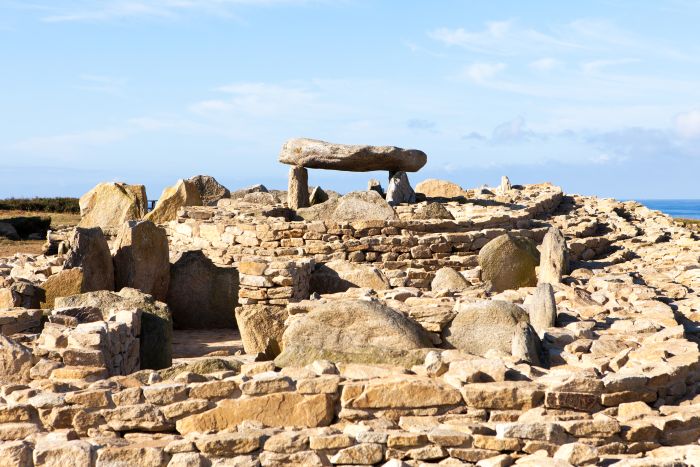 The Gallery Grave at Pors Poulhan
In 1835 the Chevalier de Fréminville described the 'Allée Couverte de Pors Poulhan' as being one of the most attractive and largest dolmens in Finistère. This Neolithic gallery grave was excavated in 1986-7 and restored in 1988-9. The wealth of objects discovered inside it show that it was used for a very long time from late Neolithic times until the Gallo-Roman era.