Considered by many as the 'end of the world', the Pointe du Raz is the gateway to Cap Sizun, Finistère and even Brittany.

The quality of the scenery of the 'Grand Site de France' is truly breathtaking and memorable and its rich wildlife attracts many visitors and specialists. Its remarkable heritage, exceptional culture and thriving legends make it an internationally recognized attraction.
Discovering Cap-Sizun
Visiting the Pointe du Raz provides the opportunity to explore Cap Sizun, with its historic capital, Pont-Croix. The historic heart of this listed character village centres round a collegiate church, one of the most beautiful religious buildings in Brittany, from which picturesque flights of steps lead down to the river.
Audierne also has picturesque narrow streets, steeped in history leading to the marina and town centre. Plouhinec is the proud home of the palaeolithic site of Menez Dregan where around 500,000 years of history have been uncovered.  
Meanwhile on the horizon the lights of the Ile de Sein twinkle in the distance. 
From Cap Sizun to Cornouaille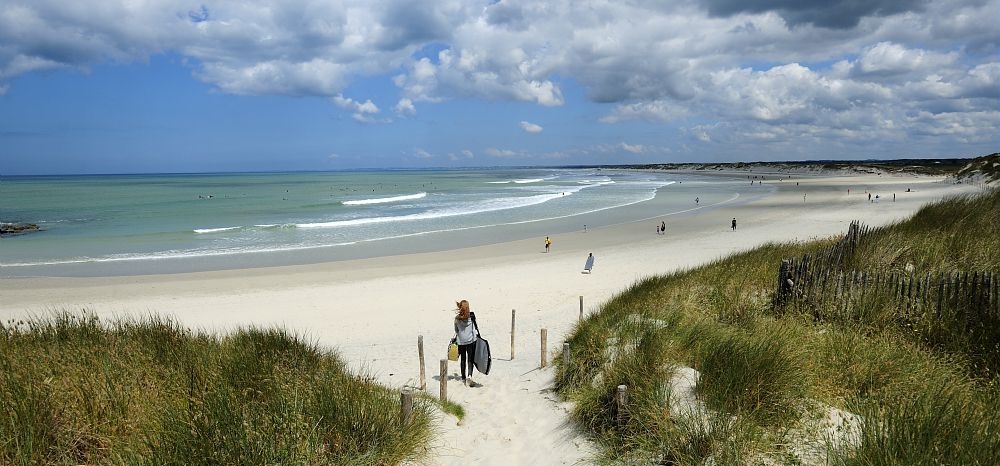 After exploring Cap Sizun, why not venture further afield to discover West Cornouaille. Enjoy the diverse scenery of the Pays Bigouden and its famous head dress. Stroll through the dunes and watch the fishing boats returning to harbour in the different ports.
Douarnenez is symbolised by the sardine, but is also well-known for producing the best kouign amann (a delicious local pastry). Visit the Port-Musée and its amazing collection of boats from many different places. Take a guided walk at low tide to Ile Tristan or stroll through the village of Les Plomarc'h with its old fishermen's cottages
Myths and Legends
The Pointe du Raz en Cap Sizun is an 'absolute must' on any discovery tour of the region and its colours, atmosphere, geology and marine environment symbolise all the character and myths of Brittany.
This is the home of korrigans (Breton pixies), just like Brocéliande Forest. The myths of King Arthur and the Round Table, King Gradlon, Dahut and the legendary city of Ys are strongly entrenched here. In fact it is said that the site of Ys was in the Bay of Douarnenez, facing the Baie des Trépassés.